Our Breastfeeding Peer Support Service, Breastfeeding Buddy, has made crucial donations to the Baby Basics for Big Help Project to provide Knowsley mums with the essentials for both parent and babies in urgent need.
Baby Basics Knowsley, which was founded in 2014 and is a part of the Big Help Project national network, provides vulnerable mums-to-be with essential items to support the preparation of baby's arrival. The Baby Basics team create and distribute Moses Baskets of the donated new-born essentials to mums-to-be and have given Moses Baskets to over 200 mothers since their launch in 2014.
Kathryn Clark, Service Manager of Breastfeeding Buddy and a host of our brilliant Peer Supporters banded together to gather baby clothing, bedding, toiletries for mum and baby, toys and a well-deserved gift for each mum to go into the Moses Baskets – which conveniently also serve as a bed for newborns – and have been graciously awarded with a certificate from Big Help Project for their support and donations.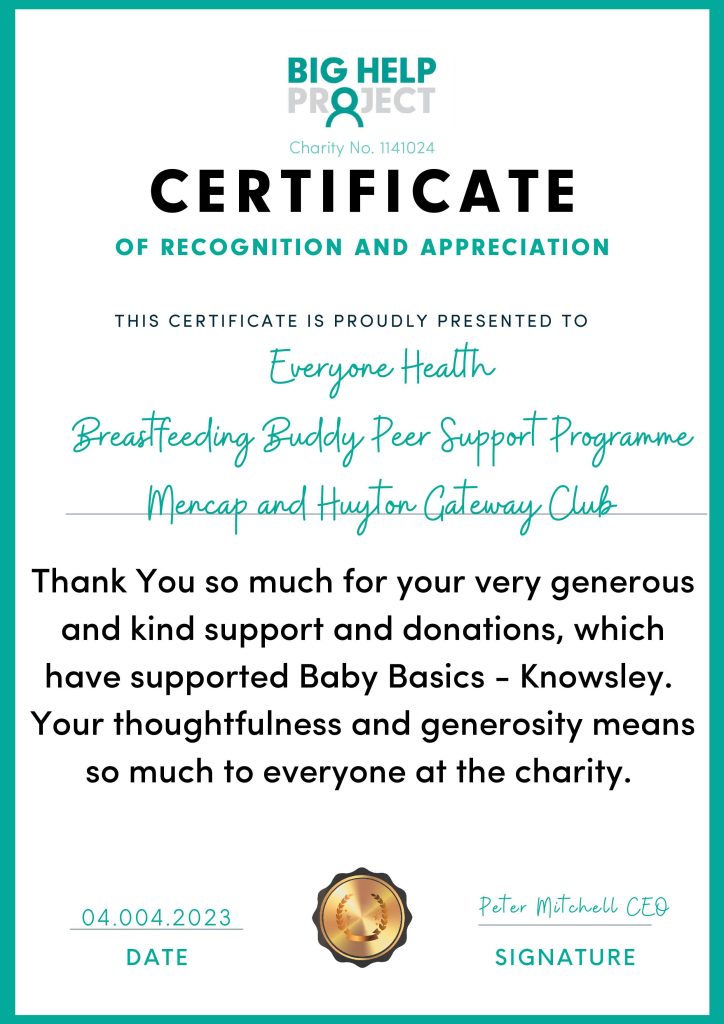 To read more about Baby Basics Knowsley and The Big Help Project, please visit: Baby Basics — Big Help Project.
The Breastfeeding Buddy service is looking for volunteers to provide 1-to-1 peer support to new mums and mums-to-be in Knowsley. Full training and support is provided, and you will gain an accredited peer support certification from our official breastfeeding partner, Healthy Babies UK. For further information, please message our Facebook page: Breastfeeding Buddy, or email [email protected].
---